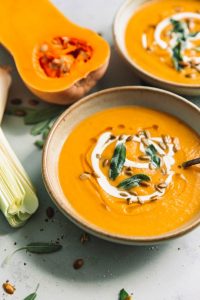 "Here is the perfect soup for a warm fall evening, after a day of apple picking or a visit to a country farmstand," recommends Sasha Muniak, founder of Mangia. You can garnish this silken soup with finely shredded smoked ham if you like. With a vegetable or green salad and toasted walnut bread, you have an easy menu for a Sunday night supper that asks almost nothing of the cook at the last minute. There is a lot to be said for the simplicity of serving chilled soup.
Ingredients
2 medium butternut squad (2 ½ pounds)
6 cups fresh apple cider
1 tablespoon chopped fresh ginger
1 tablespoon salt
1 teaspoon dried thyme
1 teaspoon freshly ground black pepper
½ teaspoon ground nutmeg
4 ounces creme fraiche, for serving
Preheat the oven to 350 degrees F.

Cut the butternut squash in and lengthwise; scoop out the seeds. Wrap the squash in aluminum foil, place on a baking sheet, and bake for 1 hour. Remove and let cool.

In a large saucepan, bring the apple cider to a boil with the ginger, salt, thyme, pepper, nutmeg and simmer it for 20 minutes. Let cool, then strain.

When the butternut squash is cool enough to handle, scoop out the flesh carefully. Place the squash, in batches, in a blender or food processor with the apple cider mixture and puree. (The puree should be thick but easy to ladle.) Transfer to a large bowl, cover tightly, and refrigerate for 2 hours. 

Close to serving time, bring the creme fraiche to room temperature; whisk briskly with a fork until smooth. Remove the soup from the refrigerator and stir to make uniform. If it has thickened while standing, thin it with apple cider to the desired consistency.

To serve, spoon some creme fraiche into each bowl and ladle the chilled soup around it. You can also serve the creme fraiche separately, in a bowl, for passing.
Serves 6
Prepping in advance: The soup can be made 1 day ahead through step 4. When ready to serve, proceed with steps 5 and 6 to finish and serve.