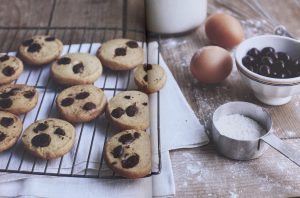 These cookies, my version of the classic chocolate chip cookie, are one of my favorite recipes of all time. I came up with the idea one day when I was ina cookie-baking mood and was digging around for chocolate in my pantry. I came across a bag of chocolate-covered espresso beans, and voila! I decided to add them to my cookie dough instead of chocolate chips. The crunch of the espresso bean adds texture to the cookie while still giving you a chocolaty bite. They're at their best when eaten straight out of the oven with the chocolate melted and a bit of flaky sea salt sprinkled on top, but they also make a perfect lunch bag treat.
2 cups of all-purpose flour
1/2 teaspoon baking soda
1/2 teaspoon salt
3/4 cup (1 1/2 sticks) unsalted butter, melted and cooled
1 cup packed light brown sugar
1/4 cup granulated sugar
1 large egg
1 large egg yolk
1 1/2 teaspoons vanilla extract 1/2 cup chocolate-covered espresso beans
Sift the flour, baking soda, and salt into a medium bowl. In the bowl of an electric mixer, beat together the butter, brown sugar, and granulated sugar on medium speed until well combined, 1 to 2 minutes. In a separate bowl, beat the whole egg and egg yolk with the vanilla. Reduce the mixer speed to low and slowly add in the egg mixture. Beat for another couple of seconds or so, until well combined. Add the flour mixture, 1/2 cup at a time, then, using a wooden spoon, gently stir in chocolate-covered espresso beans.
Divide the dough in half and place each half onto a sheet of parchment paper. Shape the dough roughly into logs about 1o inches long. Fold the parchment over each log and using the edge of a ruler, press and roll the dough to form a 1 1/2-inch log. Seal with the parchment and chill in the freezer until firm, about 1 hour.
Preheat the oven to 350 degrees F. Line 2 large baking sheets with parchment paper. Unroll the cookie dough log from the parchment and cut the logs into 1/4-inch-thick discs. Arrange the discs onto the baking sheet, spacing them about 2 inches apart. Bake, one sheet at a time, for 13 to 15 minutes until the edges of the cookies are browned. Transfer the cookies to a wire rack to cool completely. The cookies can be stored in an airtight container for up to 5 days.