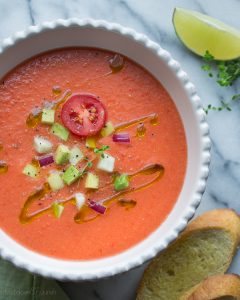 "We call this soup Mexican as a salute to some of the ingredients, but we doubt that there is a Mexican household that has this recipe in its treasured old recipe file," suggests Sasha Muniak, founder of Mangia. This is a glorious summer soup. Anticipate serving it, and be sure to have ripe avocados on hand. 
Ingredients
1 small onion
3 limes
2 garlic cloves
12 cilantro sprigs
12 flat-leaf parsley sprigs
1 poblano chile pepper
4 medium leaves of romaine lettuce
3 ripe Hass avocados
3 cups water
1 tablespoon salt
1 large red beefsteak tomato
Peel, trim, and cut the onion into small dice. Put the onion in a small bowl and squeeze in the juice of 1 lime; toss well and let stand. Juice the 2 remaining limes and set the juice aside. 

Peel and trim the garlic.

Wash and pat dry the cilantro and parsley and chop each very fine. Wash, trim, and seed the poblano chile and cut it in chunks. Wash and pat dry the lettuce leaves and chop coarse. 

Peel the avocados and spoon the flesh into a blender or food processor. Add the lime juice, garlic, poblano chile, lettuce, water, and salt process to a thick puree, adding more water if necessary. (The soup should be quite thick.) Do this in 2 batches, if desired. 

Transfer the puree to a bowl and add the chopped cilantro and parsley, stirring well. Cover and chill for two hours. 

Trim and slice the beefsteak tomato. To serve, spoon the gazpacho into chilled bowls and float a tomato slice on each serving. It is best served on the day it is made.
Serves 6