From bunny cookies to chocolate cheesecake eggs, celebrate Easter with MANGIA's desserts and treats that are as cute as they are delicious. All desserts are baked in house in our Mangia flagship store at 50West 57th street. When you pass by, take a glimpse at our open-space bakery section and watch our Pastry Chef Wilson prepare the Chocolate Bonbons and Meringue.
MANGIA's cookies are almost too beautiful to eat. This Easter, you can find a variety of cookie sets consisting of Easter eggs as well as bunnies. Sold by the dozen or in small sachets; each comes with a holiday theme ribbon to tie everything together.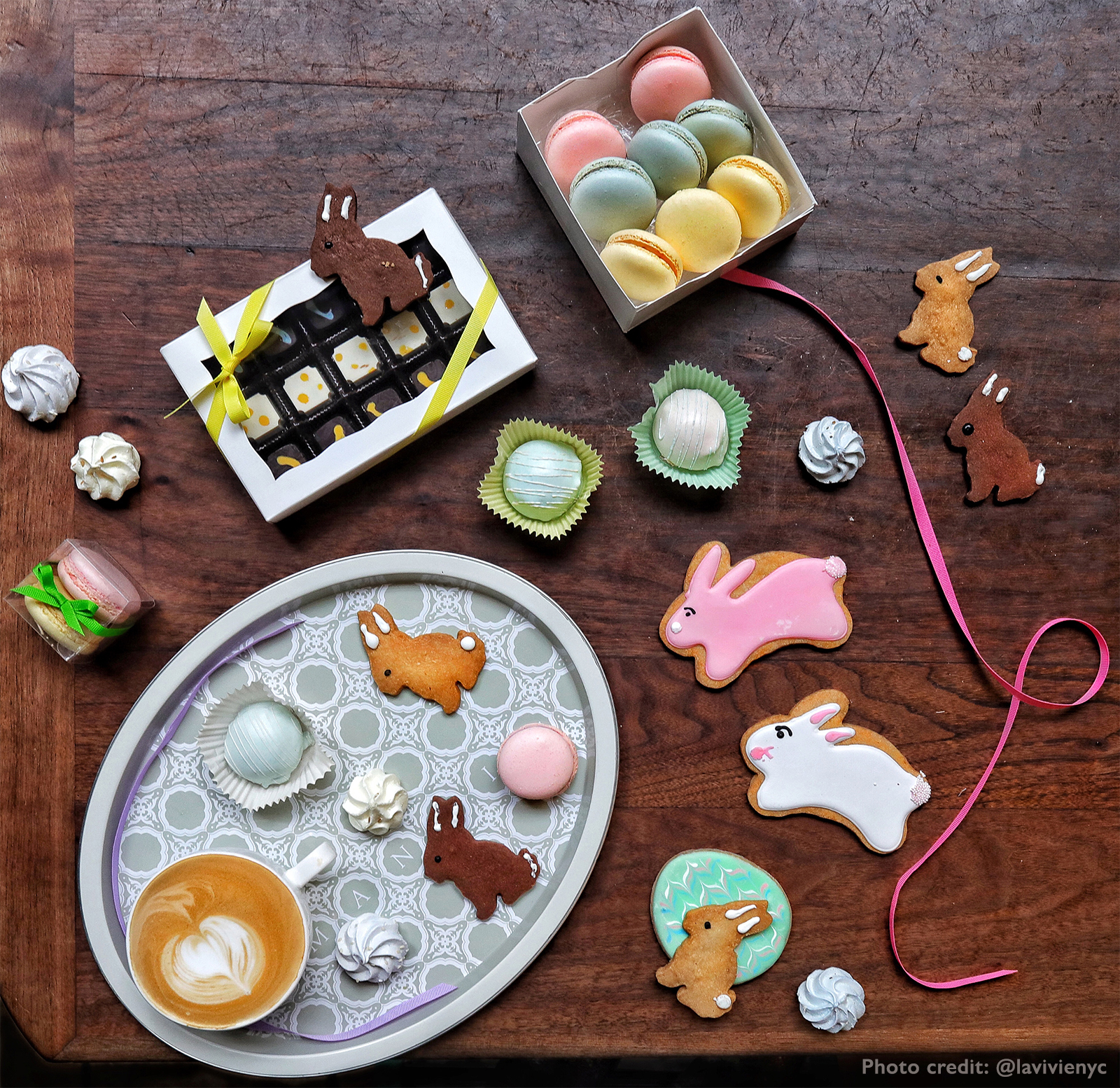 Hop on over to a MANGIA store to grab your traditional or out-of-the box Easter treats, that will leave you wishing Easter came more than once a year!
Check out our Easter Menu for all the sweet treat options!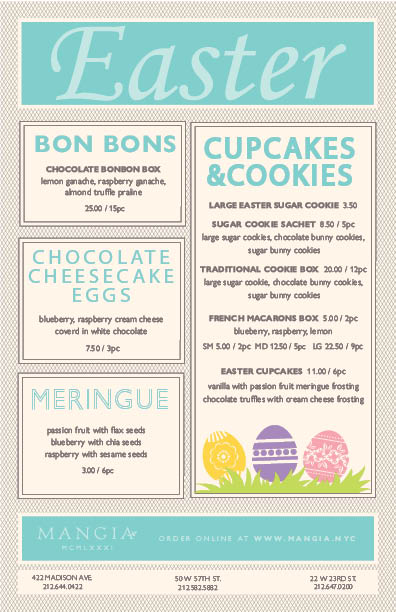 Celebrate the holiday with a fun Easter dessert recipe! Try out the MANGIA chocolate cheesecake eggs, with a variety of flavors like blueberry and raspberry.
Chocolate Cheesecake Eggs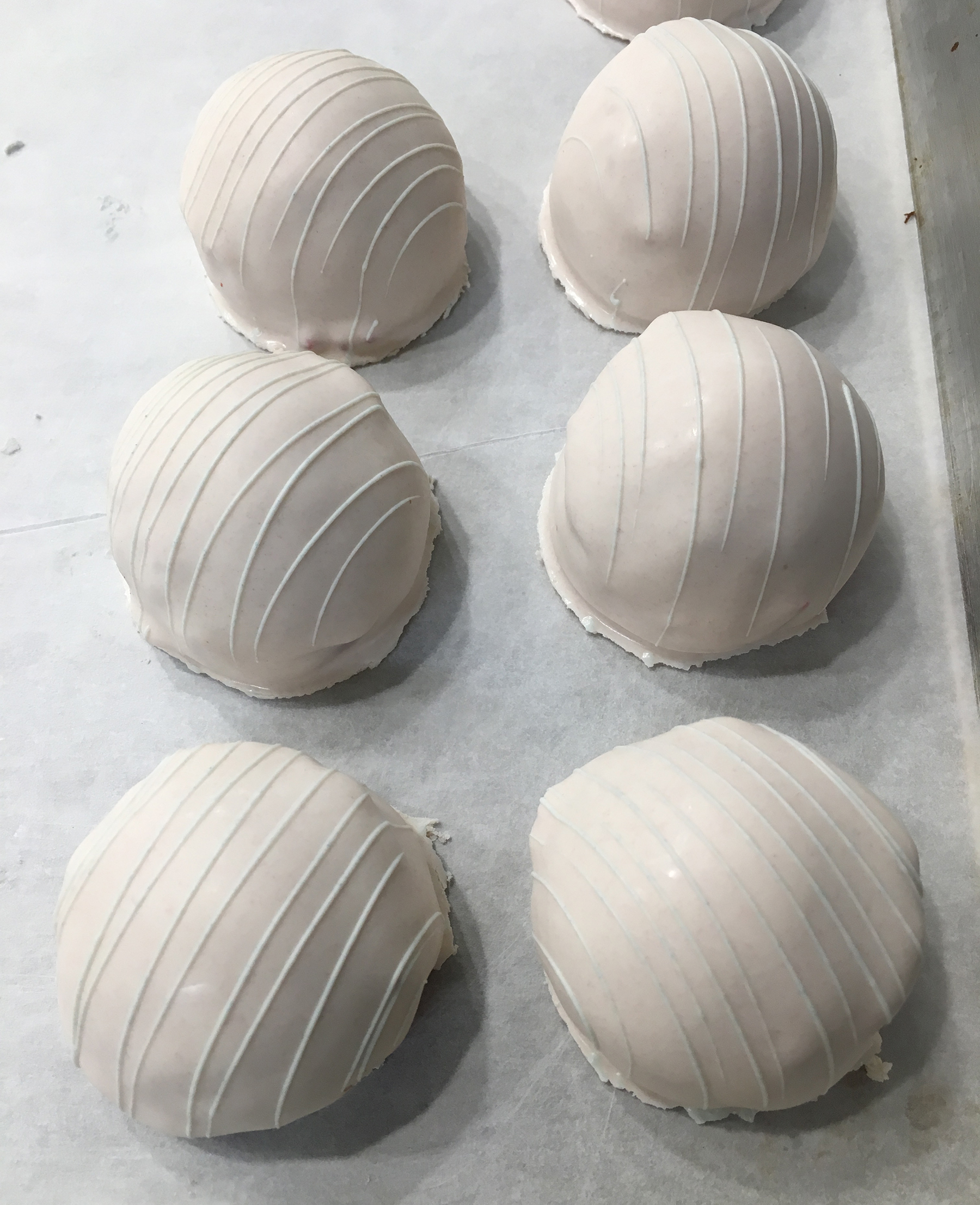 Ingredients
1 cup cream cheese
1 cup sour cream
1 cup heavy cream
1/2 cup raspberry jam
1 cup butter
1 cup sugar
2 tablespoons vanilla extract
1 cup of white chocolate
Preparation
Beat cream cheese, butter, raspberry jam and vanilla in medium bowl until blended. Gradually add sugar, mixing well after each addition.

Freeze 1 hour or until cream cheese mixture is firm enough to handle.

Shape cream cheese mixture into 40 balls, using about 1 rounded tsp. cream cheese mixture for each ball. Place in single layer in shallow pan; refrigerate 15 min. or until firm.

Stir white chocolate, heavy cream, vanilla, and butter for the icing mixture.

Remove 14 cheese balls from refrigerator; pour the icing on each cheesecake ball. Place in single layer on parchment-covered baking sheet; place in refrigerator.

Keep refrigerated until ready to serve!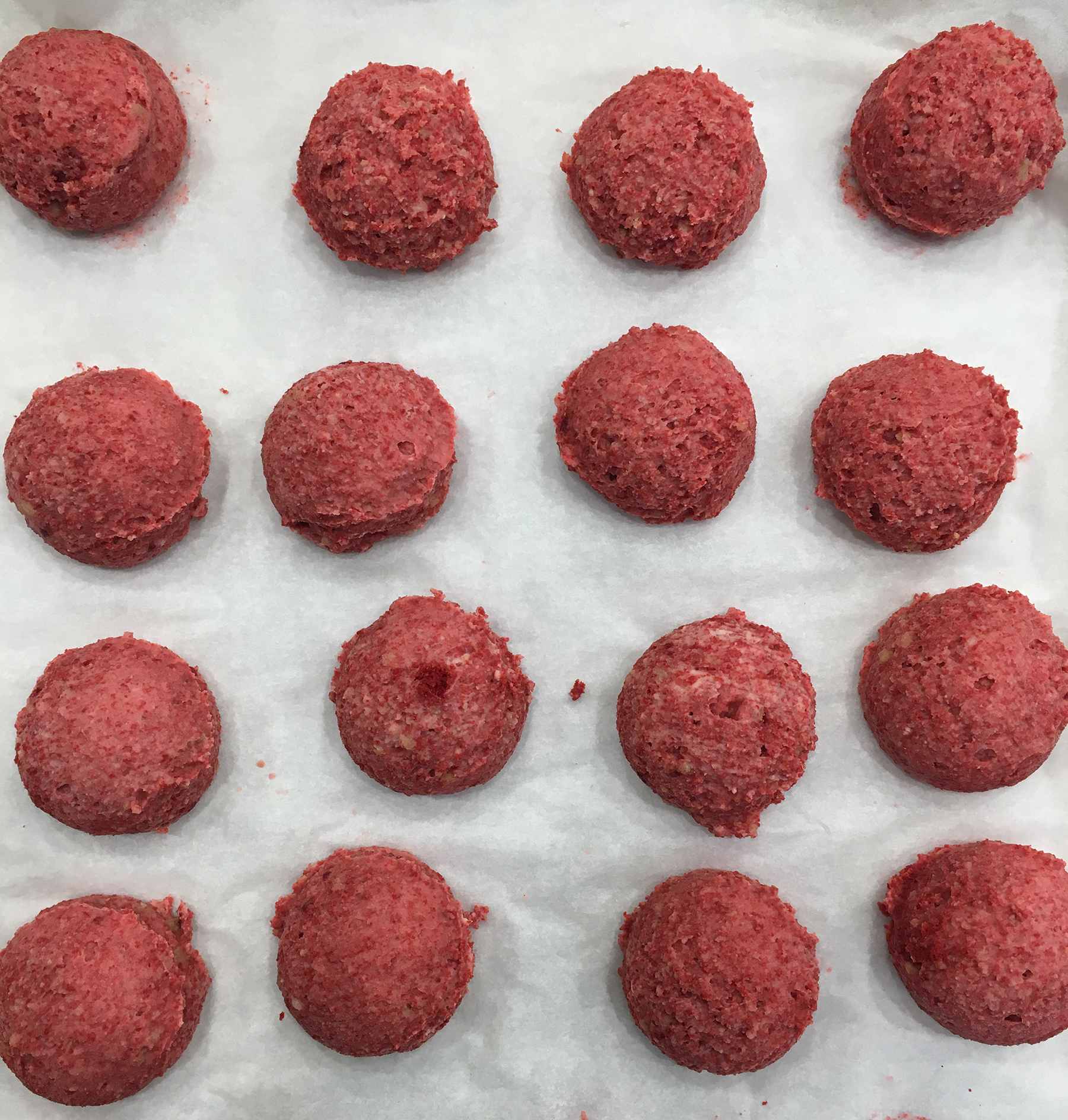 Share with us your creations on Twitter and Instagram!
Contact Us
Our Catering team is taking orders for Easter, call your nearest Mangia location or email us at catering@mangia.nyc today!
Have a Very "Hoppy" Easter!