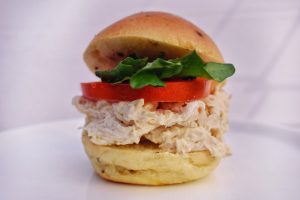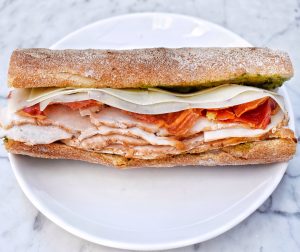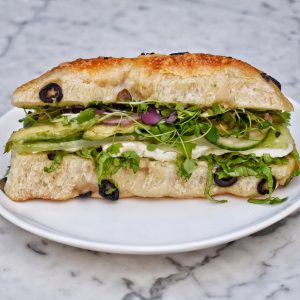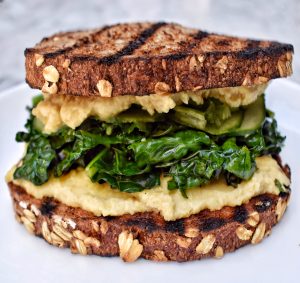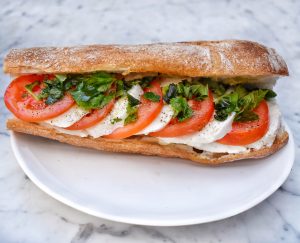 I'd tell you the joke about some jam on a piece of bread, but you might spread it…
Panino is an Italian word. Quick language lesson, panino is a diminutive of pane [or bread] and refers to a bread roll. Panino imbottito [stuffed panino] refers to a sandwich, but the catchy, three-syllables have made their name around the world, and straight through the doors of Mangia.
With endless options, you can enjoy our vegetarian options, vegan options, and our meat-lover options. Hot pressed, or freshly prepared, our sandwiches are an absolute hit. With slamming fresh ingredients on freshly baked bread, Mangia's paninis are a hit, not miss.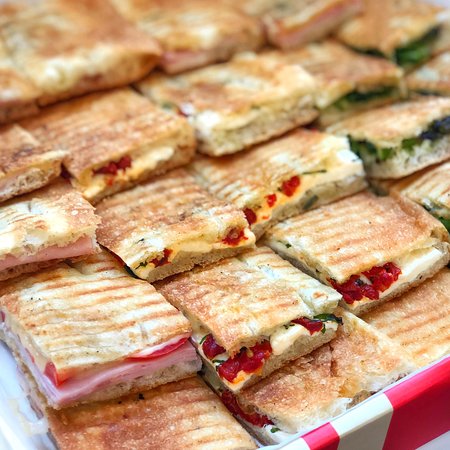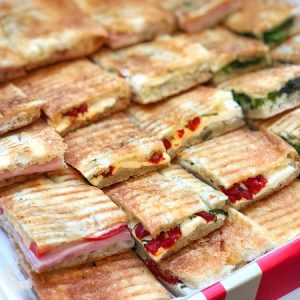 Besides paninis, which are made hot-pressed, we have various options for fresh and hot sandwiches. An absolute favorite sandwich of mine is the Roasted Vegetables Sandwich. On a freshly baked baguette,  you can enjoy a balanced meal with tons of nutrition and protein. This delicious sandwich is made with sauteed spinach, roasted eggplant, roasted peppers, roasted tomatoes, goat cheese, provolone cheese,  and my favorite— sriracha sauce.
Us veggie lovers can totally understand the obsession…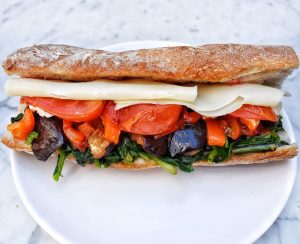 Another favorite of mine is the Wild Smoked Salmon Sandwich. In between two slices of toasted 7-grain bread, a spread of cream cheese, horseradish cream, romaine lettuce, cucumbers, and a delicious smoked salmon. This is a great summer sandwich. Light, but rich with protein and flavor, this sandwich remains one of my favorites when I'm in the mood for some fish.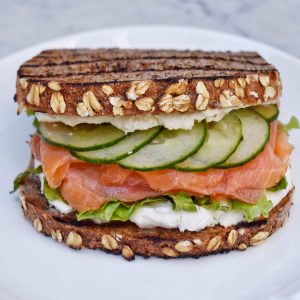 A great meaty sandwich option is the classic Italian hero. On fresh baguette, we put sopressata, salami, coppa ham, prosciutto, roasted peppers, chipotle aioli, and provolone cheese. 
There's nothing like the perfect assortment of cold-cuts and veggies on the right kind of bread. The perfect sandwich is key and Mangia knows how to make them right. That's why I'm going to give you the tips to make the perfect sandwich. Especially if you're looking to buy or make something on the healthier side – low in calories, but rich in flavors. 
Strategy #1: Picking the right bread…
When it comes to bread, we have tons of options. Baguette, focaccia, brioche, sour-doe, whole grain, rye. We have so many options, that it is nearly impossible to make the choice when standing on a moving line at a sandwich shop. To keep carb portions smart, aim for two ounces of bread. My all-time favorite sandwich bread is whole grain bread, known for its fiber, antioxidants, and nutty taste. If you absolutely love the taste of a fresh baguette, scooping out the center of a crusty baguette or roll is a great way to cut down on calories and fit more healthy fillings into your sandwich, like veggies or proteins. 
Strategy #2: Get your condiments right…
Get yourself out of a mayo rut by exploring condiments that are both flavorful and healthful. Try slathering on an herb or sun-dried tomato pesto, a spread of buttery ripe mashed avocado, or some rich, creamy hummus. (Not only are these delicious, but you also get the benefits of their monounsaturated fats and vital nutrients.) Try mixing two parts Dijon mustard with one part honey for a sweet-tangy low-calorie spread. This could be a great option for a turkey sandwich or veggie sandwich.
Strategy#3: Veg-up!
That go-to lettuce leaf and slice of tomato is fine, but you can do so much better. Try grilled vegetables (like zucchini, eggplant, fennel, peppers, onions, and tomatoes), interesting greens (watercress, arugula, and frisée), or even veggies you might not think of for a sandwich (steamed asparagus and green beans; sliced radishes, red onion, and cooked beets; shredded carrot and cabbage; raw snow peas). Toss them with a touch of fruity olive oil, lemon juice or good-quality vinegar, some fresh herbs, and a little salt and pepper, and you can take these vegetables from something you never thought would taste so great. 
With these three strategies—choosing the right bread, a better spread, and lots of veggies—you'll build tastier, healthier sandwiches.
Come by, and mangia un panino.