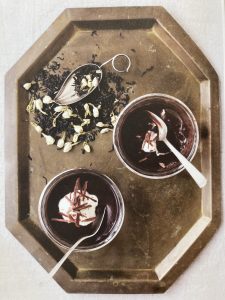 Pots de creme are equal parts rich and creamy. I love to add a little something floral to the custard to give the classic flavors another layer of complexity. Here I've opted for a hint of jasmine and honey, lending a delicate finish that balances out the richness of this dessert. These are simple to make but need time to chill-I recommend making them a day in advance, then whipping the cream just before serving.
POTS DE CREME
7 ounces bittersweet chocolate, finely chopped, plus a 1-ounce chunk for shavings
1/2 cup whole milk
1 1/2 cup whole milk
1 1/2 cups heavy cream
6 large egg yolks
1 1/2 tablespoons sugar
Pinch of sea salt
Jasmine Honey Cream
Preheat the oven to 250 degrees F.
Place the chopped chocolate in a medium heatproof bowl. In a  medium saucepan, combine the milk, heavy cream, egg yolks, sugar, and salt. Place over low heat and bring to a simmer; simmer, whisking constantly until the sugar has dissolved and the mixture has thickened enough to coat a spoon, 5 to 6 minutes. Pour the custard over the chocolate in a slow steady stream, continuously whisking until the chocolate has melted. Pour the mixture through a fine-mesh sieve, straining out any solids. Divide the custard among 6 ovenproof ramekins and cover each tightly with foil. With a toothpick or fork, poke several holes in the foil to allow steam to escape. Set the ramekins in a baking pan and pour in hot water to reach halfway up the sides of the ramekins. Transfer the pan to the oven, taking care not to let water splash into the ramekins. Bake for 35 to 40 minutes, until the custards are set but still jiggly in the center. Remove the ramekins from the pan, loosen the foil lids (but don't remove them), and place on a wire rack to cool, then transfer to the refrigerator to chill for at least 2 hours or overnight. Top each pot de creme with a dollop of Jasmine Honey Cream (recipe follows). Using a vegetable peeler, slowly shave the side of the remaining 1-ounce chocolate to create thin, flat shavings and sprinkle them over the pots de creme.
JASMINE HONEY CREAM
1  cup heavy cream
1 tablespoon loose-leaf jasmine tea or 2 jasmine tea bags
1 tablespoon of honey
In a jar, combine the heavy cream with the tea leaves. Cover the steep in the refrigerator overnight. Strain the cream into a mixing bowl, discarding the tea leaves. Add the honey and whisk by hand or with an electric mixer until soft peaks form; do not overbeat.