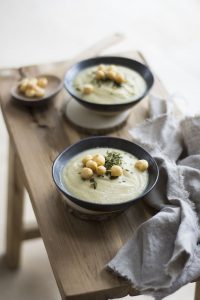 Your whole house will turn into a Middle Eastern spice bazaar when you toast all the seeds for this soup. What you are doing, of course, is making your own curry powder—something that is not only intensely aromatic but also instructive in that it enables you to customize the blend to your own taste. "This soup, with its golden color, looks great served in white bowls," suggests Sasha Muniak, founder of Mangia; "Clear mugs work very nicely, too."
Ingredients
1 tablespoon coriander seeds
1 tablespoon cumin seeds
1 teaspoon ground cinnamon 
1 teaspoon ground turmeric
½ teaspoon freshly ground black pepper
½ teaspoon cayenne
1 large head of cauliflower, 1 ½ to 2 pounds
1 medium Idaho potato
1 teaspoon chopped fresh ginger
6 cups chicken broth
½ cup heavy cream
Toast the coriander seeds, cumin seeds, and cardamom seeds in a small dry skillet over low heat, stirring continuously, until fragrant. Transfer to a spice grinder and grind them as finely as you can. (Or place the seeds between double sheets of aluminum foil and pound them with a hammer.) Place the ground seeds in a small bowl and add the cinnamon, turmeric, black pepper, and cayenne. 

Wash and trim the cauliflower; cut it into small florets. Peel and cube the potato. 

In a large, heavy pot, combine the cauliflower, potato, ginger, chicken broth, and spice blend, and cook, covered, over medium heat for about 30 minutes. Turn off the heat and let the soup cool to room temperature. 

Puree the soup in batches in a blender, strain through a sleeve, and pour it into a large bowl. Cover the bowl tightly and chill the puree for 2 hours.

Add the heavy cream and stir to combine. Serve in chilled bowls, if desired.
Serves 6
Prepping in advance: The soup can be made 1 day ahead through step 4. When ready to serve, proceed with step 5 to finish the soup.