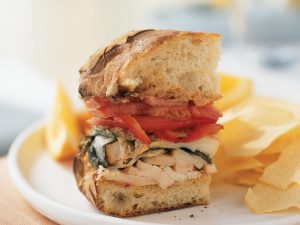 "We tasted a salad like this, with chicken and a splendid nut sauce, in Turkey one summer," tells Sasha Muniak, founder of Mangia. When we got home, we decided to try it with hazelnuts. It is elegant company fare, thanks in large part to the hazelnuts. Ciabatta loaves, made from flour, yeast, and water, are shaped like old and much-used slippers—hence the name, which is Italian for "old slipper." If they are not available where you live, use baguettes, which should be easy to find. 
While many people think of sandwiches only at lunchtime, this one makes a swell supper served alongside a simple green salad. 
Ingredients
1 roasting chicken, 3 to 4 pounds
2 tablespoons unsalted butter
1 tablespoon salt
For the hazelnut sauce…
1 tablespoon coriander seeds
1 tablespoon fennel seeds
2 garlic cloves
4 slices white bread, crusts removed
2 cups chicken broth
1 teaspoon salt
½ teaspoon cayenne
½ cup heavy cream
1 cup hazelnuts, toasted and skinned
2 beefsteak tomatoes
6 individual ciabatta loaves
Preheat the oven to 350 degrees F.

Wash the chicken outside and inside, and pat it dry with paper towels. Rub the outside of the chicken well with the butter, sprinkle with the salt, and place in a roasting pan. Roast for 1 hour, or until the leg joints move easily and the juices run clear when the flesh is tested with a fork. Remove the pan from the oven and let the chicken cool to room temperature. 

To make the hazelnut sauce: In a small skillet, toast the coriander and fennel seeds over medium heat, shaking the pan continually, until they become fragrant. 

Peel and trim the garlic cloves. Soak the bread in the chicken broth.

In a blender or food processor, puree the toasted seeds, garlic, salt, and cayenne with the cream. In small amounts, add the hazelnuts and broth with the bread to the processor, blending after each addition. When you are done, you should have sauce for the chicken and toss to combine.

Remove the skin from the chicken. With your fingers, pull off the meat in bite-size strips and put in a large bowl. Be careful to avoid all cartilage, dark veins, or gristle. Add the hazelnut sauce to the chicken and toss to combine. 

When you are ready to assemble sandwiches, thinly slice the tomatoes. Cut each ciabatta lengthwise, horizontally, without cutting all the way through. The bread should remain hinged on one side. Fill each bread with some of the chicken salad, top the salad with 2 or 3 tomato slices, cover with the top crusts, and cut the sandwich in half.
Serves 6
Prepping in advance: The chicken can be roasted  1 day in advance of using; let cool as directed, then cover and store in the refrigerator.
Similarly, prepare the sauce 1 day ahead of time; store in a covered container in the refrigerator. 
This sandwich is best when assembled just before serving.