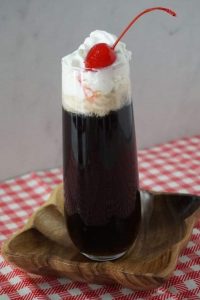 Don't underestimate the value of a homemade cola-it might be easy to pop open a store-bought bottle as we did when we were kids, but this stuff is magic. Cherry Coke is my weakness, and thus this recipe was born- it is the cola recipe that ruins all other cola recipes. If you crave a little nostalgia with your soda, consider this concoction your own. 
SPECIAL EQUIPMENT: Cheesecloth
2 1/2 cups water
Finely grated zest of 1 lemon
Finely grated zest of 2 oranges
Finely grated zest of 2 limes
Large pinch of freshly grated nutmeg
1 cinnamon stick
1/2 star anise pod
1/2 teaspoon dried lavender flowers
One 2-inch knob ginger, peeled and sliced
1/4 teaspoon citric acid found in the baking aisle of grocery stores or health food stores)
1 1/2 pounds fresh cherries, stems removed, cut in half, and pitted
2 cups superfine sugar
2 tablespoons light brown sugar
Seltzer for topping
In a medium saucepan, combine the water, lemon zest, orange zest, lime zest, nutmeg, cinnamon stick, star anise, lavender, ginger, and citric acid. Tie the cherries up in cheesecloth and submerge them in the liquid. Place over medium heat and bring to a boil, then reduce the heat to low and simmer for 25 minutes, or until the cherries soften and their juices are released and the syrup is deep red in color. In a large bowl combine the sugars. Place a fine sieve over the bowl, remove the cherries from the saucepan, and place them in the sieve. Using a wooden spoon, press any extra syrup or cherry liquid from the bundle. Reserve the cooked cherries to use as a topping for desserts. Strain the rest of the syrup from the saucepan through the sieve and into a bowl. Discard the spices and stir the syrup until the sugar is ready to use. The finished syrup can be made ahead and stored in the refrigerator for up to 1 week. 
To make the cherry cola: Fill a glass with ice; pour in 1/4 cup cherry syrup and top with about 1 cup seltzer water, stir, and top with a fresh cherry.
Note: The cooked cherries can be stored covered in a glass jar and kept in the refrigerator for up to 1 week. They are great spooned over plain yogurt for breakfast or as an accompaniment to ice cream.