Valentine's Day is around the corner and there is nothing better than suprising your beloved ones with something sweet 🙂
A gift idea to celebrate LOVE is our MANGIA macaroons. Try our assortment of delicate champagne, pistachio, raspberry and coffee and check our recipe to get a glimpse of behind the scenes.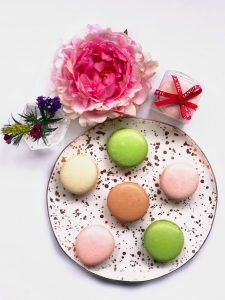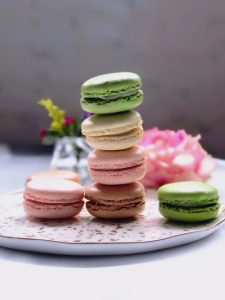 Aaaaa, le macaroons recipe!
1. Preheat the oven to 300 degrees F using the convection setting.  Measure the confectioners' sugar and almond flour by spooning them into measuring cups and leveling with a knife. Transfer to a bowl; whisk to combine.
2. Sift the sugar-almond flour mixture, a little at a time, through a fine-mesh sieve into a large bowl, pressing with a rubber spatula to pass through as much as possible. It will take a while, and up to 2 tablespoons of coarse almond flour may be left; just toss it.
3. Beat the egg whites, cream of tartar and salt with a mixer on medium speed until frothy. Increase the speed to medium high; gradually add the superfine sugar and beat until stiff and shiny, about 5 more minutes.
4. Transfer the beaten egg whites to the bowl with the almond flour mixture. Draw a rubber spatula halfway through the mixture and fold until incorporated, giving the bowl a quarter turn with each fold.
5. Add the food coloring and extract (see below). Continue folding and turning, scraping down the bowl, until the batter is smooth and falls off the spatula in a thin flat ribbon, 2 to 3 minutes.
6. Transfer the batter to a pastry bag fitted with a 1/4-inch round tip. Holding the bag vertically and close to the baking sheet, pipe 1 1/4-inch circles (24 per sheet). Firmly tap the baking sheets twice against the counter to release any air bubbles.
7. Let the cookies sit at room temperature until the tops are no longer sticky to the touch, 15 minutes to 1 hour, depending on the humidity. Slip another baking sheet under the first batch (a double baking sheet protects the cookies from the heat).
8. Bake the first batch until the cookies are shiny and rise 1/8 inch to form a "foot," about 20 minutes. Transfer to a rack to cool completely. Repeat, using a double sheet for each batch. Peel the cookies off the mats and sandwich with a thin layer of filling .
Tada! C'est l'amour! Enjoy your Valentine's Day macaroons made by Mangia with love!