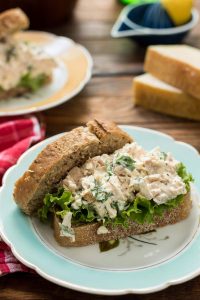 "It is nothing for our chef to order 300 pounds of chicken per day. To say that chicken is popular is an understatement," tells Sasha Muniak, founder of Mangia. This salad, in particular, is a hit at lunchtime. 
Ingredients
3 quarts water
1 onion
2 garlic cloves
2 bay leaves
1 small bunch flat-leaf parsley, tied with kitchen twine
1 teaspoon salt
6 chicken breast halves, on the bone, with skin, 4 ½ pounds total weight
F O R    T H E    D R E S S I N G
2 garlic cloves 
2 cups packed basil leaves
1 cup mayonnaise
¾ cup grated Parmigiano-Reggiano
Juice of 1 lemon
1 ½ teaspoon freshly ground black pepper
1 teaspoon salt
In a large heavy pot, bring the water to a boil.

Peel, trim, and quarter the onion. Peel, trim, and smash the garlic. 

Add the onion, garlic, bay leaves, parsley, and salt to the boiled water and boil for about 10 minutes. 

Carefully slide the chicken breasts into the pot and return the water to a boil. Reduce the heat to low, cover, and poach the chicken for about 15 minutes. Turn off the heat, remove the cover, and let the chicken cool in the liquid. 

When cool enough to handle, remove the chicken from the broth, skin, and bone it, and shred into bite-sized pieces. Put in a  large bowl. (Be sure to strain and reserve the broth for making soups or sauces.) 

Make the dressing: Peel, trim, and chop the garlic as fine as possible. Rinse the basil leaves, pat them dry, and chop very fine.

In a bowl, combine the garlic and basil with the remaining dressing ingredients. If you would like a smoother sauce, blend all the ingredients in a blender or food processor until saucelike.

Spoon the dressing over the chicken, toss well to combine, and transfer to a serving platter. Serve within 1 hour of finishing.
Serves 6