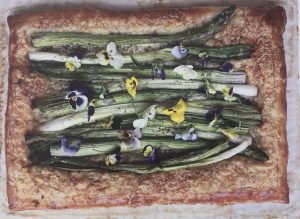 Whenever I crave a little something decadent for lunch, a vegetable tart is my fallback dish- rich but somehow still light. Asparagus is one of the first vegetables to pop up all over the farmer's markets during the start of spring, and with its spearlike shape, feathery tips, and distinctive flavor, set atop a generous sprinkling of cheese it makes the perfect topping for the simple base of a buttery, flaky pastry.
1 sheet thawed store-bought puff pastry dough
1 large egg, beaten with 1 teaspoon water
1/2 cup grated Gruyere or Comte cheese
1/2 cup Fontina cheese
8 ounces spring onions, trimmed and cut in half lengthwise
Extra virgin olive oil for brushing
Salt and freshly ground black pepper
Edible flower blossom
Roll out the thawed puff pastry dough to about 1/8 inch thick on a lightly floured surface and cut it into an approximately 10 x 8-inch rectangle. Place the dough on a baking sheet lined with parchment paper. Using a paring knife, score a border 1/2 inch in from the edge of the dough and brush the border with the egg wash. Using a fork, prick all over through the center of the dough. Transfer to the refrigerator ad chill for at least 15 minutes.
Preheat the oven to 400 degrees F.
Prebake the pastry dough for 8 to 10 minutes, until the pastry begins to puff up, using a fork to prick any air pockets. Scatter the cheeses evenly over the center of the pastry dough, keeping the border clean. Arrange the asparagus spears and green onions to fit closely together on the pastry, alternating between the two. Drizzle with olive oil ad season with salt and pepper. Brush the edges of the dough with the egg wash again and bake until the crust is golden and the vegetables are cooked through about 20 minutes. The tart can be served warm or at room temperature. Finish with a scattering of edible flower blossoms if desired.