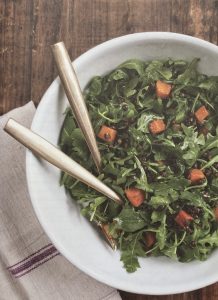 I always have a supply of arugula in the refrigerator. The delicate leaves have a peppery bite and make for an excellent base for any salad. Here I've added lentils and sweet butternut squash to highlight the earthy flavors of autumn.
FOR THE SALAD
1 butternut squash (2 to 2 1/2 pounds), peeled, seeded, and cut into 3/4-inch cubes
2 tablespoons extra virgin olive oil
2 tablespoons honey
Salt
1 cup French green lentils (aso known as Puy lentils)
1 tablespoon unsalted butter
1 garlic clove, minced
1/2 teaspoon ground cumin
Freshly ground black pepper
6 ounces arugula (about 8 cups loosely packed)
FOR THE DRESSING
2 garlic cloves, peeled
3 tablespoons fresh lemon juice
Finely grated zest of 1 lemon
3 tablespoons finely minced shallots
1 heaping tablespoon Dijon mustard
1 1/2 tablespoons white wine vinegar
1/2 cup extra virgin olive oil
Salt and freshly ground black pepper
Preheat the oven to 400 degrees F. Line a baking sheet with parchment paper. In a large bowl, toss the butternut squash with the olive oil and honey and season generously with salt. Spread the squash in a single layer on the baking sheet and roast until beginning to brown, about 15 minutes. Stir the squash and bake for an additional 5 to 10 minutes, until fork-tender. Remove from the oven and set aside to cool.
Meanwhile, place the lentils in a medium saucepan and add water to cover by 2 inches. Do not salt the cooking water to ensure the lentils will stay firm to the bite. Bring to a rolling boil over high heat, then reduce the heat to low and simmer for 25 to 30 minutes, until the lentils are fully cooked but still firm. Drain and set aside. In the same pan, melt the butter over medium heat. Add the garlic and saute until softened, 2 to 3 minutes, then return the lentils to the pan, add the cumin, and season with salt and pepper.
To make the dressing, smash the garlic to a paste on a cutting board using the side of a chef's knife. In a small bowl, whisk together the lemon juice, zest, shallots, garlic, mustard, and vinegar. Add the olive oil in a slow drizzle as you continue to whisk until the dressing has emulsified. Season with salt and pepper.
In a large bowl, toss the arugula with the dressing and top with the lentils and roasted squash. Serve immediately.