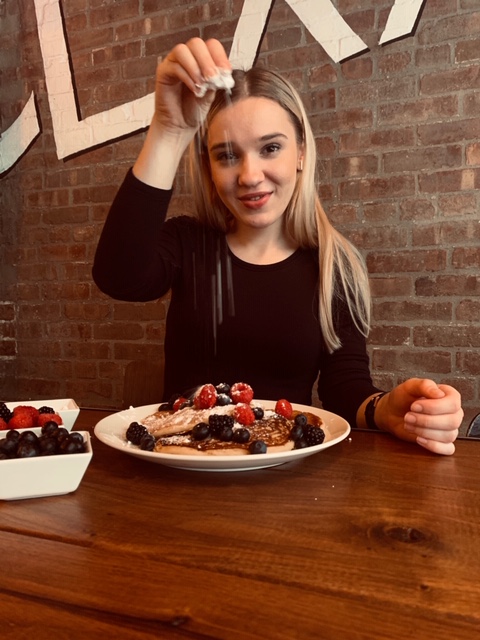 To celebrate International Women's Day, we chose to feature five women at Mangia who make every day better than the last. Read on to see what each of them had to say about female empowerment and everyday inspiration, plus their talents and passions outside of work.
Margaret: Operations
"I was very inspired by the director of my high school, who became a very special person to me. She motivated me and always believed in me to achieve anything I wanted to do. She inspired me to go to university and to get a master's diploma in Mathematics."
Margaret's fine-tuned attention to detail keeps all Mangia's locations running smoothly. She juggles the many day-to-day operations of running a restaurant while also regularly devoting time to volunteering and helping care for cancer patients. But she also finds time to enjoy herself and her interests, like skiing in the mountains.
Silvia: Store Manager, 422 Madison avenue
"Every woman is unique and can offer an interesting perspective on things in the F&B industry."
Silvia is one of the youngest members of the Mangia team, but that doesn't stop her from expertly handling her many responsibilities. Whenever she can, she likes to try out new recipes, like the pancakes featured in our Women's Day newsletter. Discover Silvia's favorite recipe here:
Ingredients
1 c. all-purpose flour
2 tbsp. sugar
2 1/2 tsp. baking powder
1/2 tsp. salt
1 1/4 c. milk or buttermilk
3 tbsp. butter, melted
1 large egg
vegetable oil for brushing pan
Directions
In large bowl, whisk flour, sugar, baking powder, and salt. Add milk, butter and, egg; stir until flour is moistened.
Heat 12-inch nonstick skillet or griddle over medium heat until drop of water sizzles; brush lightly with oil.
In batches, scoop batter by scant 1/4-cupfuls into skillet, spreading to 3 1/2 inches each.
Cook 2 to 3 minutes or until bubbly and edges are dry. With wide spatula, turn; cook 2 minutes more or until golden.
Transfer to platter or keep warm on a cookie sheet in 225°F oven.
Repeat with remaining batter, brushing griddle with more oil if necessary.
Chloe: Art Direction
"We have so many people in this company that have been here for so many years. We're all unique and diverse and I admire the women I work with. They're good communicators and strong professionals who are flexible enough to take on roles that are beyond their job description. Being around people who go above and beyond is inspiring."
Chloe is the creative eye behind many of the small details that make our brand shine. Gathering inspiration from her travels throughout Europe, she helps bring global influences back to New York City. She strives to make Mangia unique, whether that means picking out new decor for the Casa Mangia dining room or giving creative input on new menu items or packaging ideas. She chases beauty in all forms out of work as well, and is especially passionate about French and Italian wines.
Barbara: Customer Service
"The women I work with inspire me most of all by their example to go after my dreams and not be afraid of doing something that may fall outside of my comfort zone. Seeing women celebrating each other's strengths and accomplishments is always empowering and motivates me to be better and do better. But what inspires me the most about the women I work with is their willingness to encourage other women and help each other accomplish their goals."
Barbara thrives on the fast pace of providing assistance to the many Fortune 500 companies that rely on Mangia to cater events and meetings. For her, customer service means helping our clients order the perfect lunch and design the perfect event. Even after a day's work nourishing hundreds of New Yorkers, she still enjoys the chance to create in her own kitchen, often baking desserts for dinner with her friends.
Monika: Store Manager at 22West 23rd street
"I always tell my girls that, we are very strong and we carry much on our shoulders, especially as working mothers and managers of the house. It's like having two or three jobs at the same time. But this is who we are–women rule! Young women don't always see themselves that way. You are not 'just' a woman…you have so much more potential than you recognize in yourself!'
Monika is more than just a manager at Mangia. She always finds time in her busy schedule to add her special touch, like making handwritten labels for each day's selection of baked goods. She is also committed to Mangia's sustainability efforts and is always looking for a way to repurpose items that might otherwise be discarded, such as using orange peels to bake a cake or decorating the store with sustainable roses for Valentine's Day. In her free time, she enjoys making her own jewelry and ceramic art.
GLOBAL GOODS
Mangia is proud to partner with Global Goods, a nonprofit that works to provide sustainable, fair-trade jobs to artisan women around the world. You can find their handmade ceramics in our dining room at Casa Mangia, or browse the website for stationery, bags, scarves, children's toys, and unique gifts made by real women everywhere from Afghanistan to Bolivia to Tanzania and more than 20 other countries across the globe.