Simple & Delicious Tartines To Try
One of my favorite day-starters are Mangia's open-faced tartines. We have many options that include egg salad, salmon, hard-boiled egg, but my favorites are the vegan options. The first being the Avacado&Cucumber Toast. This toast is super light and leaves you filled with energy to fuel your day. We prepare this toast, simple and easy. On a toasted piece of 7-grain bread, we spread some smashed avo. When you're satisfied with the look of your smashed avo, peel fresh cucumber onto your toast. Lastly, season with tahini, lime juice, and red pepper flakes. Voila! There you have it.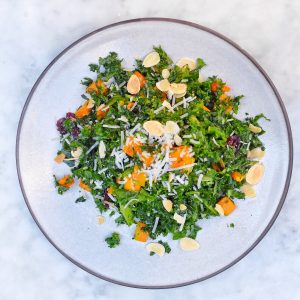 Kale Salad
Often times kale is a hit or miss. People find it too bitter, or don't understand how to prepare it to bring it to its full potential. Mangia is a kale pro and our kale salad is a go-to summer favorite. Our fresh baby kale is seasoned with olive oil and a fresh lemon vinaigrette. The salad is rich with flavor from its components. Roasted pumpkin, dried cranberries, toasted almonds, and freshly gritted parmesan cheese. This salad is my personal favorite and easy to prepare at home! Definitely, something to try out. 

Carrot Ginger Soup Recipe
What makes this soup especially appealing to me, is its rich and creamy texture. And no, we do not use any creamer to prepare this soup; Not even the vegan replacements [cashew cream or coconut cream], make this soup taste so good. So what is the secret? As simple and surprising as this may seem… the answer is carrots. 
 Here's what else makes it so darn good:
1.Ginger adds a lovely freshness and plays well with the carrots' sweetness. Ginger also has many healthy components great for your general immunity.           
Positive effects of ginger:
– Relieve digestive issues
-Anti-inflammatory
-Natural pain killer
-Good for the heart
-Strengthen immune system
-Good for diabetics
2. Onion and garlic give it depth of flavor.
3. Extra-virgin olive oil adds richness. As you blend the ingredients together, the olive oil creates texture and smooth puree-like flavor. 
4. Apple cider vinegar or orange juice makes it bright & tangy. [Less for taste and more for color, the presentation looks amazing with this simple add-on].
5. And veggie broth gets the blender moving and ties it all together.
Instructions
1. Heat the olive oil in a large pot over medium heat. Add the onions and a generous pinch of salt and pepper and cook until softened, stirring occasionally, about 8 minutes. Add the smashed garlic cloves (they'll get blended later) and chopped carrots to the pot and cook about 8 minutes more, stirring occasionally.
2. Stir in the ginger, then add the apple cider vinegar, and then add 3 to 4 cups of broth, depending on your desired consistency. Reduce to a simmer and cook until the carrots are soft, about 30 minutes.
3. Let cool slightly and transfer to a blender. Blend until smooth. Taste and adjust seasonings. Add maple syrup, if desired.
4. Serve with a drizzle of coconut milk and/or a dollop of pesto, if desired.
These are just a few of my summer favorites! Let me know what you think. Like, comment, and send us your at-home recipes if you decide to prepare a Mangia-style lunch.