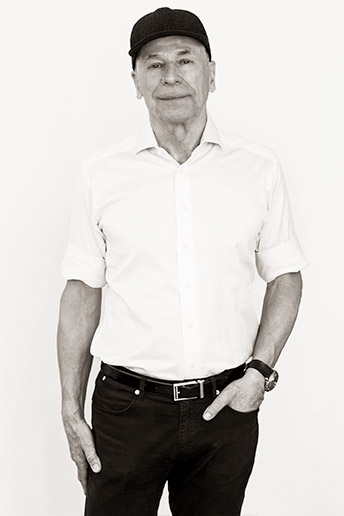 Sasha Muniak
Founder
Early on Sasha observed that at lunchtime, professionals working in Midtown had a very limited choice in terms of dining options: either a fancy restaurant or a coffee shop/diner. In between these two extremes, Sasha envisioned an appealing, well-priced alternative whereby guests could enjoy simple, rustic Italian fare (sandwiches, salads and pastries initially) made with high-quality ingredients. A place where craftsmen baked all night to offer a cornucopia of the freshest, flakiest "hot from the oven" breakfast items; where a small, passionate culinary team arrived before dawn to meticulously prep food in time for the lunch rush. While this approach to food did still thrive in ethnic enclaves in Little Italy and the outer boroughs, it had never been experienced by Midtown denizens. The first-ever Mangia thus opened in 1981 on 56th Street to great acclaim — and the rest is history!
Born in Poland, Sasha spent years studying violin at Cracow's premier music conservatory. He emigrated to the US with dreams of pursuing his career as a violinist, but his other lifelong passion — delicious, straightforward food — swiftly took precedence. His priority at Mangia, from day one, has been to please his guests by offering a high-quality meal at a fair price. Ever the perfectionist, Sasha wants every meal to be the best. To achieve this objective, he hired a full-time chef and pastry chef — a revolutionary move at the time for this tier of eatery. Hardly a folly, this unique strategy enabled him the rare luxury of both being a successful restaurateur and home for dinner each evening with his family.
Over the years Sasha grew the Mangia brand to several locations in Manhattan as well as launched concepts in Seoul and Istanbul, which were adapted to local tastes and cultures. Back in New York, his entrepreneurial drive culminated in the creation of two bustling Italian restaurants, Gusto Ristorante e Bar Americano and Centro Vinoteca (both in the West Village), which received broad praise from critics such as New York Magazine's Adam Platt.
Sasha's commitment to his craft and unquenchable desire to raise the bar on all aspects of the Mangia experience continues to this day. Mangia is his "baby," and he and his team are focused on making the brand unequivocally relevant and up-to-date, but without sacrificing the core values that have made Mangia a 35-year New York success story. He is the ultimate perfectionist, focused on ensuring that each guest's experience is consistent
In his down time Sasha loves to travel, to explore food markets all over the world and to experience new restaurants and cuisines. He's also a fitness aficionado who particularly enjoys CrossFit training.